<
Fall is a great time to plant trees and we've been doing some of that here at
Our Little Acre
.  Last month, I drove over to another corner of our state, to Lake County.  That's almost to Pennsylvania, and don't make too sharp of a turn left, our you'll get your feet wet in Lake Erie.  I had a nice three-day visit with my friend, Maria Zampini, and got to meet her mom, dad, brother, son, and two aunts.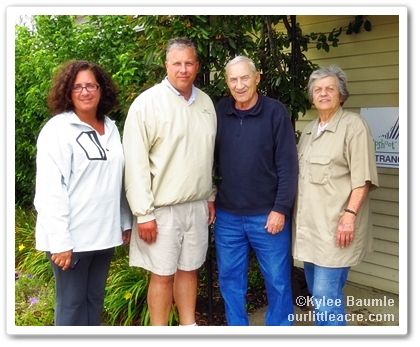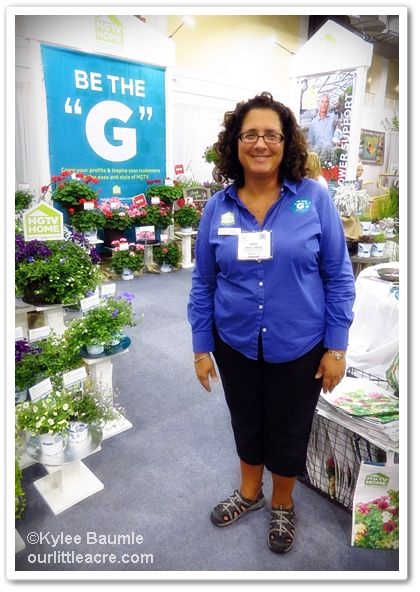 If you've never met Maria, you may not know what a force in the horticulture industry she is.  The woman makes me tired just watching her.  In addition to being the founder of Upshoot, which provides sales, marketing, and licensing of new plant introductions, she works with her father, brother, and aunt in the family nursery,  Lake County Nursery, home to many familiar introductions, including those great Round Table Series crabapples, like Lancelot® and Guinevere®.
Maria is also a past president of ONLA (Ohio Nursery and Landscape Association) – the only female to ever hold that office to date.  Not only that, she is the Director of Plant Development for the HGTV HOME Plant Collection and is a published author, contributing to many publications, and is a much sought after speaker, traveling the world to further horticulture in numerous ways.  Oh, and she just signed a contract to write a book with my publisher, St. Lynn's Press.  See?  And that's only part of her schedule of activities.
Lake County Nursery is responsible for the introduction of the very popular Snow Fountains® weeping cherry tree, which we've had for umpteen years (meaning I don't remember when we got it), and we, in all of our then-uneducation wisdom, planted it a little too close to the front of our house. But selective pruning (to the point of bordering on abusive) has kept it looking good nonetheless. I doubt we amended our heavy clay soil when we planted it either. This is one tough tree.
Maybe you remember this little video I made a couple of years ago, when that thing was a-buzzin' with bees while it bloomed its heart out:
Snow Fountains® cherry – April 21, 2011
I got to visit the nursery, and Maria let me pick out some trees (and shrubs) to take home (many, many thanks!) and I chose these trees:
Do you see a pattern here?  Every single one of the  trees I chose is a weeper.  I like that in a tree.  Perhaps I'm mourning the death of our weeping willow, which we can't bring ourselves to remove from Max's Garden just yet.  Even in death, it has a dignified form and I don't mind it hanging around for awhile longer.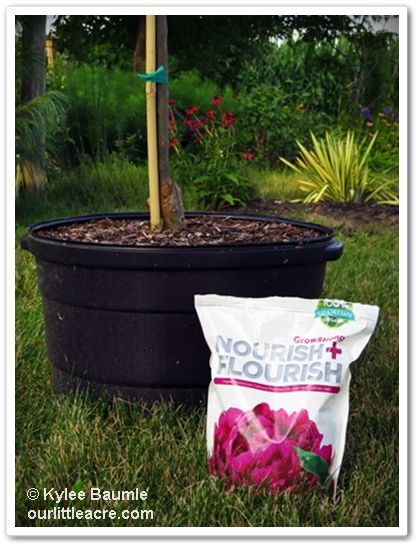 Or maybe I just like weeping trees.  In any case, Romie and I both were pretty thrilled to have these and we got them planted a couple of weeks ago when we had uncharacteristically cool weather for August.  There will be more about a couple of those trees a little later.
We made sure we planted them so as to give them the best start possible, including using Pure Elements Nourish + Flourish mixed into the soil, along with some compost.
Pure Elements (formerly NatraTurf) makes several products to help your plant grow better.  They're 100% organic and OMRI listed, and they're guaranteed to be safe and effective or they'll refund what you paid for them.  Any one of the products will increase your chances of growing success in their own way:
Soil Success: Renew + Transform

Grow Strong: Nourish + Flourish
Soil Repair: Prep + Develop
Acid Repair: Alkalize + Balance
The first two products can enhance your plants' nutrient uptake; improve germination, shoot and root growth; and increase soil microbial activity.  Soil Repair helps loosen up heavy clay soil like we have here in Northwest Ohio.  Acid Repair helps adjust the pH of your soil, making it less acidic, if you have issues with that (we don't).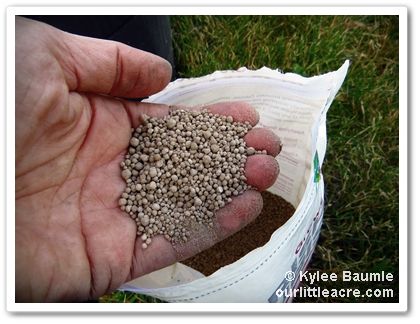 I talked with Courtney Tompkins about their products (she's Pure Elements' PR and social media go-to person) and she was all for letting me host a giveaway of one of the above, of the winner's choice, to each of TWO winners.  ($6.99 – $14.99 value, depending on which you choose.)
So how do you enter to win?  Just leave a comment to this blog post telling me what your favorite tree is.  The giveaway ends on Sunday night, September 15th, at midnight, EDT.  I'll use Random.org to choose TWO winners, who will then have three days to contact me with their shipping information and which of the four products they'd like to try.
So GO! What's your favorite tree?
__________________________
I was provided with free trees and Pure Elements products for use in my garden, with no requirement to post about them.  This post is part of my sharing my experiences in my garden and I received no other compensation other than the free products. As always, all opinions stated here are my own.
Read more: http://ourlittleacre.blogspot.com/2013/09/new-trees-at-our-little-acre-and.html#ixzz2eWaWuTvo
]]>