<
Guest Blog Post by: Genevieve Schmidt
My pal Susan Morrison is a landscape designer and garden writer in the San Francisco Bay Area, and she really knows her stuff. You might remember her as the author of Garden up! Smart Vertical Gardening for Small and Large Spaces, which was an Amazon Best Books of 2011 selection.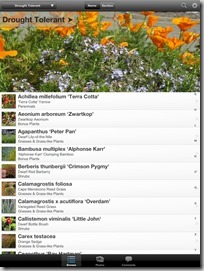 The app is meant to provide foolproof plant ideas which will work in a variety of situations in the average residential garden. While I am usually pretty harsh on resources which try to provide planting information that would be good all across the country, this app actually does a fantastic job of walking the line and recommending plants that will tolerate a variety of different zones and garden conditions.
Part of the reason the app is so successful is that Susan hired a variety of experts from around the country to give their feedback and help edit the information before releasing the app. Since we're friends, Susan consulted me about the landscape maintenance aspects of her advice, and I read and gave feedback on the information prior to its release.
What I love about this app is that when you're at the nursery or out in the garden, it's pretty easy to search the plants by their category, such as white flowers or groundcovers, and narrow down a few choices that you know will do well. Susan also includes some great generalized planting advice and garden maintenance advice in case you're feeling a little overwhelmed by the how-to aspects of getting your garden growing.
Is this the most exhaustive app out there? Nope. There are only about 100 plants here, and Susan makes no bones about the fact that this isn't meant to be your only landscaping resource. However, if you're feeling overwhelmed by the idea of choosing some basic landscape plants that are going to perform well and look good under different circumstances, Susan's picks are sturdy, attractive choices that will do well across the Pacific Northwest and around the rest of the country.

Buy Plant Picks on Google Play or the iTunes Store.
Blog post contributed by Genevieve Schmidt, North Coast Gardening
Read more about other popular gardening apps: 
http://www.northcoastgardening.com/2013/05/gardening-apps/#ixzz2SoxZRU8x
]]>